Our History
A history of LimaCorporate since 1945
LimaCorporate is known for orthopedics, but its past is far more varied. LimaCorporate started as a family business, passionate about helping rebuild people and society, that was founded in the aftermath of World War 2 (WW2). A passion for innovation led to the development of technologies across aerospace, automotive, and eventually orthopedics.
A SUPPLIER IN THE AEROSPACE INDUSTRY
The history of LimaCorporate starts in 1945, Anduins (Friuli-Venezia Giulia).
The entrepreneur Carlo Leopoldo Lualdi began to produce surgical instruments as a response to the shortage caused by WW2. The word "Lima" stands for Lualdi Industrie Meccaniche Anduins.
In 1953, Lualdi expanded the business and created the first helicopter prototype, relying solely on his ingenuity. Until 2000, LimaCorporate had risen to become an important supplier in the aerospace industry.
In 1970, we began using titanium, which is a core material used in most orthopedic implants today.
ORTHOPEDICS, AEROSPACE AND AUTOMOTIVE
Lualdi's pioneering vision applied to three businesses: orthopedics, aerospace and automotive.
1974 was a milestone year in LimaCorporate's history, as we developed and adopted a strict quality system for our aerospace offering. The system was immediately used in the production of orthopedic implants. This resulted in recognition and trust from surgeons around the world.
In the eighties, LimaCorporate also began producing parts for the automotive trade, notably becoming a supplier for the best Italian racing cars in the world.
LIMACORPORATE'S FOCUS ON INNOVATING ORTHOPEDICS
In 2000, Lualdi's son decided to focus the company on orthopedics.
As we focused more on improving people's lives, our heritage in engineering and manufacturing became even more valuable.
3D Printing machines allowed LimaCorporate's engineers to create new shapes and materials. We invented Trabecular Titanium (TT), which we patented in 2007. The ProMade design service was born, allowing patient custom-made orthopedics implants.
In 2004, LimaCorporate opened its first subsidiary in Japan. This marked the start of our worldwide expansion.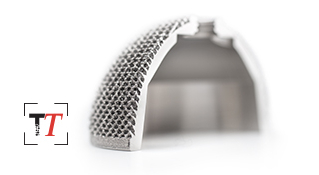 DIGITAL TRANSFORMATION AND THE FUTURE OF ORTHOPEDICS
In 2018, LimaCorporate acquired TechMah and together we created Smart SPACE.
This is a piece of software that supports surgeons to have greater precision and performance during surgery, and ultimately benefits patient experiences.
Alongside LimaCorporate's long-term experience in 3D printing, pioneering orthopedic technology is core to our DNA.
In 2021, we are set to make history in orthopedics by opening the first production facility on hospital grounds.
THE FUTURE OF ORTHOPEDICS
The creation of Smart SPACE is just the beginning. With our digital hub in Tennessee, we're actively working to build the future of orthopedics.
We imagine a world where healthcare is tailored to patients' needs, a world that is enabled by technology but still populated by humans, a world where people can enjoy the emotion of motion throughout their life.
Next
Corporate Compliance
We are committed to conducting our business in a fair and transparent manner according to the highest ethical standards and in compliance with the law. LimaCorporate adheres to the ethical standards of the following associations: Confindustria Dispositivi Medici, Medtech, Advamed, APACMed.